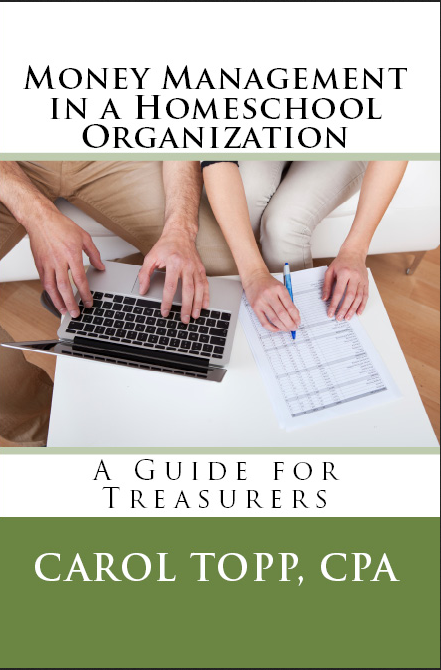 Money Management for Homeschool Organizations
A Guide for Treasurers
Does your homeschool group manage their money well? Do you have a budget and know where the money is spent? Do you know how to prevent fraud? This 115 page book will help you to open a checking account, establish a budget, prevent mistakes and fraud, use software to keep the books, prepare a financial statement and hire workers. Sample forms and examples of financial statements in clear English are provided.
How to buy this book
Related Resources
Table of Contents
Chapter 1: Your Treasurer is a Gem!
Chapter 2: Checking Accounts Done Right
Chapter 3: Super Simple Bookkeeping Basics
Chapter 4: Show Us Your Books! Regular Reporting on Financial Status
Chapter 5: Establish a Budget: You'll Thank Me Later
Chapter 6: Get What's Coming to You: Collecting Fees
Chapter 7: Do I Have to Report This? Reimbursement Policies and Avoiding Taxes
Chapter 8: Using Software to Stay Sane
Chapter 9: Fraud: It Couldn't Happen to Us
Chapter 10: Need More Money? Easy Fundraisers for Homeschool Organizations
Chapter 11: Risky Business: Insurance for Homeschool Groups
Chapter 12: Paying Workers: Hiring Employees and Independent Contractors
Chapter 13: Homeschool For Profit: Running a Homeschool Group as a Business
About the Author
Index

Audio Resource
Carol has also prepared an audio on the topic of managing a homeschool organization to help your homeschool group
Assemble a leadership board
Run a productive meeting
Write bylaws that will help you organize your group
Avoid leader burnout
Manage the money so there is some left over
She also discusses important topics for homeschool organizations such as
Insurance
Fund raising
Paying workers
Audio: How to Manage a Homeschool Organization: Boards, Budgets and Bylawsand accompanying handout
An hour-long audio that explains the importance of boards, budgets and bylaws in a homeschool organization. Get your group set up correctly and running smoothly. All specifically for homeschool groups.
Price: $7.00 includes pdf of slides of presentation
Click Here to Purchase "How to Manage a Homeschool Organization" Audio & Handout
Reviews
Your book is very well written and an interesting read. It will help homeschool organizations, treasurers especially, tremendously, if they will follow your advice. I will definitely encourage those that follow me as Treasurer to read this book as not everyone is going to have CPA with non-profit specialty background to help! Thanks so much for writing this book! -Tina Swenson, San Diego CA, Treasurer of Homeschool group
I'm very impressed with the book, and its organization, layout and readability. You did a good job covering the important topics and the examples are relevant. Thanks for taking the time in to write it. -Sofia Peterson, treasurer for homeschool co-op
I was also pleased to learn that we are doing many things right! The budget sheet (income/expenses report) that I have prepared is almost identical to your examples. I LOVE the simplicity of your spreadsheets. I am happy to know that we need not pursue a financial software. Our budget is simple and easy to follow.
I also appreciated your tips on fundraising. Fundraising is one area I do not feel comfortable with regarding our tax-exempt status, etc.  It is good to know we can do a small amount of fundraising to help pay for our group's insurance or other fees. -Mara Martin, Everett, WA, Treasurer for homeschool group with 501c3 status
You've got a dry topic that is really hard for someone like me (non-accountant) to read. That said, your book kept my interest and I was *able* to read it and learned from it. This is huge. I think it is very informative, clear, and well written. I'm not an accountant. Detest accounting (grin) and yet your book kept my interest and was very readable. -Lisa Norman, homeschool support group leader and publisher at www.heartallybooks.com
I don't think you can find this kind of information easily, because a homeschool co-op is such a unique organization. Seems thorough and very helpful! Good and complete list of treasurer expectations. Good ideas and good suggestions on how to keep the fundraising "legal." Chapter 9 on fraud has very good detail about a tough subject. -Shay Boswell, Knoxville, TN