I was a guest on a new podcast for homeschool families, Homeschool Leadercast
On the 30 minute podcast host Jeremy Jensenovec and I talked about
What a micro business is.
How teens can start a micro business
Reasons a homeschool parent would want to encourage their children to start a micro business.
How a parent would encourage a teen in a business venture and what a parent's role is.
Why it's important to teach your kids about money.
How a parent can teach a child to be responsible with money even when they haven't been themselves.
She'll talk about the resources available on Microbusinessforteens.com and HomeschoolCPA.com
Here's some show notes from the podcast.
HomeschoolLeadercast has a great lineup of speakers like Dr Jay Wile, Linda Hobar, Israel Wayne, teen author Rachel Coker and more.
I subscribed on iTunes. I also use Downcast on my smartphone to listen to podcasts while I talk a walk or do the dishes.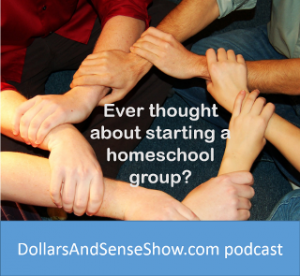 In this episode of the  Dollars and Sense Show host Carol Topp discusses
Starting a nonprofit homeschool group correctly
In this episode,  Carol  discusses how to start a nonprofit homeschool group. She shares her knowledge as the Homeschool CPA on important steps to take when organizing a group such as having a board and a clear mission. She'll also share tips on how to legally operate your homeschool group.
Three steps to launching (or running) a successful homeschool organization:
1. Board: Chose a group of leaders so no one carries the burden of leading alone.
2. Bylaws: Write up bylaws to structure your group. Decide the Who, What, Where, How often and How much issues. In the bylaws mention its purpose (what), its members (who) and its leaders. The Where, how often and how much change frequently and do not belong in the bylaws.
Sample bylaws here
3. Budget: Planning with numbers. Estimate your income and your expenses. Plan a small surplus for emergencies.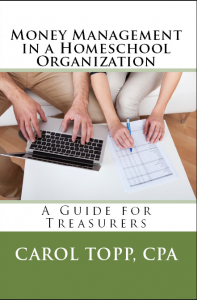 Carol's new book, Money Management in a Homeschool Organization will help your treasurer create a budget and stick to it!
On the show Carol mentioned:
Tune in for the next Dollars and Sense show on December 19, 2013 when Carol will discuss tax exemption and how to get it for your homeschool group.
(Background: Lisa's homeschool support group decided to officially declare tax exempt status as a 501(c)(7) social club. Lisa called the IRS to be added to their database so that she could file the annual Form 990N as the IRS requires of all nonprofit organizations.)

Carol,

I just spoke with the IRS about being entered into their database.  I am frustrated.  The first question she asked me was whether we have an organizing document. After I said we don't, but are self declaring 501c7 status, she informed me that unless we have an organizing document, we don't have standing with them and are not considered an exempt organization, so we wouldn't file a 990N.

Lisa in PA.
Lisa,
How extremely frustrating the IRS can be!
Organizing documents are:
Bylaws
Articles of Association for unincorporated organizations.
Articles of Incorporation for organizations that decide to form a nonprofit corporation in their state.
Most homeschool support groups do not incorporate in their state. They remain unincorporated associations. (Sounds nice and official, doesn't it?)
Homeschool co-ops or other large groups frequently incorporate as nonprofit corporations in their state and go on to apply for tax exempt status with the IRS.
Read more about nonprofit incorporation:
Your homeschool support group  won't ever send the IRS your "organizing documents" since you are self-declaring tax exempt status as a social club and do not have to file a Form 1024 to apply for 501(c)(7) status.
But it's still a good idea for a homeschool support group to have bylaws and Articles of Association. They spell out the foundation of your group's purpose, membership, and how the board is chosen.
Your homeschool support group could create bylaws or "Articles of Association" (I added a sample to my Sample Documents page) as your organizing documents.
Your board should vote to approve the bylaws or Articles of Association, but you don't have to file the document with the state or the IRS.
Then call the IRS again, hope for another person this time, and see if you can get into the IRS database.
Carol Topp, CPA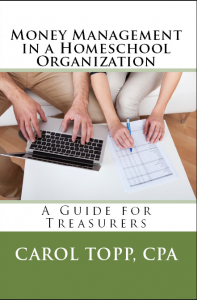 I hope you never need this information, but if you suspect someone in your homeschool group is embezzling money, here's what you need to do:
(an excerpt from my upcoming book Money Management in a Homeschool Organization: A Guide for Treasurers. Expected release date January 2014)
What to Do If You Suspect Fraud
Get help from an attorney, a CPA with fraud experience or a certified fraud examiner. If an investigation is warranted, says Allan Bachman, education manager of the Association of Certified Fraud Examiners, it should be conducted by a trained professional and not by group members with no training in such matters.
Resist the temptation to confront the suspect. If you try to handle the matter internally, you could put yourself and your group at risk for liability.
Contact the police when advised by your lawyer. This is an agonizing decision, but it should be made based on the evidence, not your personal relationship with the person you suspect.
Cooperate with the authorities. The police will review evidence, question the suspect, and determine whether he or she should be charged. If police decline to pursue the case, your attorney can advise you on a civil suit.
When communicating with your group, focus on the steps you are taking to recover the money and prevent theft. Do not comment on past actions, including the alleged theft and any current or pending charges, unless the person has been convicted.
Keep your group functioning as normally as possible. A legal case can take a year or longer to resolve. You don't want to put your events and other activities on hold.[i]
Please do not let embezzlement go unpunished. The guilty party will just go onto another organization and could do more damage. Seek to get the embezzled funds paid back to you.
Carol Topp
---
[i] Ghezzi, Patti. "Protect Your Parent Group From Embezzlement." PTO Today. http://www.ptotoday.com/pto-today-articles/article/1180-protect-your-parent-group-from-embezzlement. Accessed October 29, 2013.
In this episode of the  Dollars and Sense Show host Carol Topp's topic is:
Unplug the Christmas Machine

About 20 years ago, Carol read a book Unplug the Christmas Machine by Jo Robinson and Jean Staeheli that transformed the way she and her family celebrated Christmas. She shares her plan for having a less stressful, more joyful, debt-free Christmas.
On the show Carol mentioned the four things children really want for Christmas:
Time with parents and the family
Kids spell love T-I-M-E.
Consider what you really enjoy about the Christmas season. What traditions, activities or occasions were particularly pleasurable to you? What brings you peace and joy?
Encourage time-related activities instead of stuff-giving.
Have a plan for Christmas day and the day after to ward off boredom.
Reliable traditions
Traditions can be simple such as the same decorations on the tree year after year, visiting a local nativity, watching the movie A Christmas Story, or doing a puzzle and drinking hot chocolate.
Consider asking your children to donate a nearly-new toy that they rarely play with to a homeless shelter or Toys for Tots campaign.
Realistic expectations about gifts
Talk to your children and spouse about realistic expectations and the real reason for the season.
Ask your children for ideas on how to make Christmas more Christ-centered. They may surprise you!
Teach your children to recognize advertising slogans that emphasize spending, consumerism and a false sense of perfection for the holidays.
Consider buying only for children and not adults.
Consider buying one gift for an entire family
Pay for gifts in cash. Studies have shown that we spend up to 20% more when we use debit or credit cards instead of cash.
Talk to your children about proper behavior before you enter a store. Explain that you are shopping for someone else (not them) or for necessities, not toys.
An even pace to the holiday season
Don't start Christmas too early. Wait until after Thanksgiving or later to start activities.
Put aside count-down calendars or "letters to Santa" wish lists if they promote greed and over-emphasize the gift-aspect of the holiday.
Save some activities for the post-Christmas let-down such as playing games, baking cookies, watching a movie.
If your children receive an overabundance of toys (from grandparents or relatives), hide some away and pull them out in February or even as late as the summer.
Consider with holding some gifts until Epiphany (the 12th day after Christmas) which is traditionally when the Wise Men arrived with their gifts for the baby Jesus.
Four Things Children Really Want for Christmas handout. Feel free to share!
Carol also mentioned her plan for a debt-free Christmas
Carol Topp's Plan for a Debt-Free Christmas (click to download) mini-ebook. Feel free to share!
In this 7 page mini ebook Carol includes a budget for the holidays, tips, a funny poem and a recipe that eliminates holiday baking.
Tune in for the next Dollars and Sense show on December 5, 2013 when Carol will discuss "Have you ever thought about starting a homeschool organization?"